TMEA
Texas Music Educators Association, or TMEA, is an organization of over 10,000 Texas school music educators. It is responsible for auditions and concerts of Texas All-Region and All-State Choirs. LISD is part of TMEA Region 2, which includes 3 audition levels for all singers this year.
The Texas All-State process is a challenging, multi-level process.  All choir students are encouraged to audition! Members of the A Cappella Choir will audition as part of their curricular requirement for the course.
The music varies and can be quite challenging! Be prepared to rehearse in depth and often. When school starts, we will have sectionals outside of school to prepare for the auditions.
If you are selected for a region choir, there will be a clinic/concert that you must attend.  The $20 entry fee will be due by September 15.  When you audition you are committing to all Phase 1 and Region dates, including sectionals and Region Weekend.  If you are seeking to go all the way to the Texas All-State Choir, you also need to have the dates for Pre-Area, Area, and TMEA All-State Convention available.
This year all auditions will be submitted virtually and sight-reading will not be included.
AUDITION 1: Region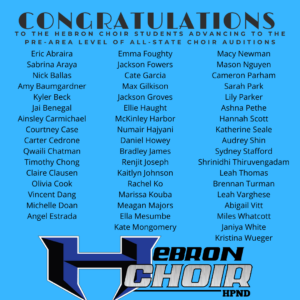 AUDITION 2: Pre-Area (determining top 5 advancing to Area) November/December?
Wie lieblich sind deine Wohnungen* (Brahms) SATB
Now Let Me Fly (Gibbs) SSAA
Les Papillons (Chausson) SSA
Jaglied (Mendelssohn) TTBB
I Will Be a Child of Peace (Hagenberg) TTBB
AUDITION 3: Area
January
Wie lieblich sind deine Wohnungen* (Brahms)
SATB Dies Irae (Mozart) SATB
Benigne Fac Domine (Hasse) SSAA
Dance (Conte) TTBB
*intentionally on both Audition 2 and Audition 3
TMEA All-State Convention
San Antonio – February 10th – 13th
TMEA hosts an annual convention in San Antonio during the month of February which includes workshops for music teachers, an exhibition for the music industry, and concerts by invited and honor groups. Students selected for All-State are invited to attend the annual TMEA convention and participate in a performance clinic and concert. The All-State Choirs provide a finale for the convention.  Since 2003, Hebron Choir has been blessed to have several students selected to the prestigious All-State choirs.
UIL Concert and Sight-Reading
Wednesday, April 13 – Thursday, April 14th at Eaton High School (7:30am-4:30pm; Times for each group vary)
The University Interscholastic League provides students with educational experiences through competition. Since 1909, the UIL has grown into the largest inter-school organization of its kind . Operated as part of the University of Texas, UIL member schools are divided into six conferences according to enrollment with 6A high schools being the largest. During the UIL Concert and Sight-Reading Contest, three judges rate choirs individually on both their prepared repertoire and sight-reading. Ratings range from Division I – Division V with Division I being the highest "Superior" rating.
LISD Solo and Ensemble
Solo Contest: Saturday, February 20 at Lewisville High School (Times TBA)
Ensemble Contest: November at Lewisville High School (Virtually)
LISD Solo and Ensemble is an annual event that provides students an opportunity to perform solo or with an ensemble (2-12 students) in front of an adjudicator. Students benefit from the experience of performing and by receiving constructive comments from someone other than their regular music teacher(s). They sing a Class 1, 2 or 3 piece of their choice and receive a rating of 1 – 5 with 1 being the highest. Each judge also selects one outstanding soloist for recognition. This year the ensemble portion of the contest will take place in the fall semester to make the best use of socially distanced learning.